Trustee / Chairman Adebimpe Saudat Adedoyin
Adebimpe Saudat Adedoyin (Obimpey – as she is fondly called) epitomizes the wise saying that *"the heart beats best, when it beats for others"*. Adebimpe has been passionate about helping the needy and the distressed since her youth.
Adebimpe was born and raised in Ibadan, the largest city in Nigeria by geographical area, to the family of Chief Olayiwola Abdulganiyu Adedoyin and Alhaja Adejoke Afusat Adedoyin.
Adebimpe's dad (AKA Wadoyin) was a renowned philanthropist during his lifetime. Adebimpe was very close and attached to her father, therefore she quite easily followed in her father's selfless and philanthropic footsteps from a very early age. Right from her youth, Adebimpe would always gladly give a portion of her own allowance to the needy. From a very tender age, she also started working as a volunteer with the local masjid.
Adebimpe graduated from the prestigious Obafemi Awolowo University with a BSc degree in Chemical Engineering. However, her burning desire to help and provide succour for the needy, pushed her to switch to Banking rather than pursue a career as a Chemical Engineer.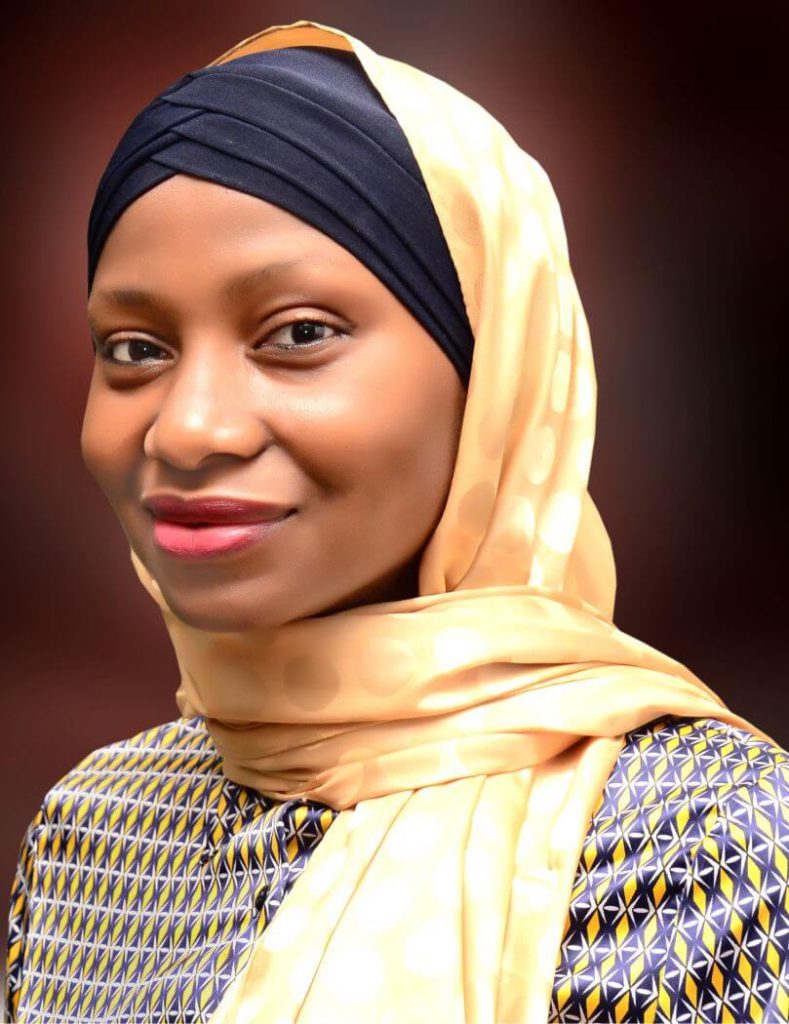 She had a sterling banking career which spanned over 17 years. She cultivated sound experience in Private Banking, Personal Banking, Relationship Management and Customer Service. She is also an expert in Corporate Marketing, Relationship Management, Treasury and portfolio Management. She has deep competencies in Business and New Product Development and Delivery as well as Negotiation. She is passionate about Coaching and Mentoring. She is also a certified professional Associate Retail Banker.
During her career in Banking, she was renowned for her diligence, her industry and her deep technical abilities. She won many awards and recognition during her banking career. She obtained an MBA in Business Administration from The Lagos Business School.
In 2016, she left Banking to start her own commodities trading business. She reckoned that this would provide her more time and resources to pursue her overriding passion of philanthropy, charity and helping the needy
Saving humanity and providing help is Adebimpe's dominant driver. She is very determined to explore all avenues to do so, together with her well-chosen team of Trustees and Executive council members. Her robust philanthropic and charity endeavours have been recently incorporated under the umbrella of her Foundation.
Obimpey in her free time, is a dedicated student of Qur'an recitation and memorization. She is a self-employed and runs her own Natural food Spices business. She is a culinary connoisseur and an adept food explorer. She loves to run outdoors. She values trust and honesty in relationships. Adebimpe is a lover of fashion in a simple and chic way. She is also quite keen about the old students' association of her college.
Adebayo Salaudeen Shonibare
Salahuddin Adebayo Shonibare is the Chairman of the Welfare Secretary of The Lekki Muslim Ummah (LEMU).
He is the Managing Director/CEO of Metzger Limited, a Risk, Strategy and HR Advisory Company with clients across Maritime, Financial Services, and Education industry verticals.
Salahuddin holds a Bachelor of Science (BSc.) degree in Sociology from the Ogun State University, and has over 23 years work experience including as an Experienced Manager in Accenture, a leading global management consulting company, and as an Assistant Vice President and Head of Business & Operational Risk Management in FCMB Plc.
He currently sits on the Board of Nobleserve Capital Management Limited and Aquafield Trading Company Limited, and has ownership interests in other entrepreneurial initiatives in Business Process Outsourcing and Mining.
Salahuddin is a Subject Matter Expert (SME) in Enterprise Risk Management, Lending Transformation, Business Process Automation, Human Resources Management, Performance Management, Strategic Planning, and Project Management.
Omobolanle Khadijat Alabi
Omobolanle Khadijat Alabi is a growing Muslim with a keen interest in self development and striving to be one who is of benefit to others. She is a proud member of the Lekki Muslim Ummah, Board of Trustees of Suleiman Adebayo Alabi Foundation and the Country Liason Officer of Honoured Orphans Network.
She is also a graduate of Economics from Obafemi Awolowo University Ile-Ife and she has  had over 15 years of professional work experience in Accounting, Audit, Finance and Strategy.
She is a fellow of the Association of Chartered Certified Accountants ACCA, a Certified Internal Auditor CIA and member of the Chartered Institute of Taxation of Nigeria.
She is passionate about Food, growing it, cooking it and most especially eating it. She loves travelling, discovering new places, experiences and having great conversations.
Abdulrahman Aliu is a student at University of Nottingham. He is currently studying for a bachelor's in Engineering. His favorite hobbies are football and basketball
He plans on giving back to the community and attending as many charity events as he can, as helping people and serving Allah is something that's important to him.
Adebola Latifat Adeyemi is a well versed and result oriented Public Relation Strategist with over 20 years of experience working across the media and public sectors respectively, using traditional and online media to promote and advance sustainable and impact driven growth and development. She is an alumna of EDC, Pan Atlantic University (Lagos Business School).
Her undying passion for Journalism launched her to limelight in the year 2000 during and after which she has evidently delivered in tandem with standards of reputable organizations like TELL Magazine, Broadcasting Corporation of Oyo state (BCOS), City People Magazine and Obat Oil Plc amongst others.
She was appointed as Special Assistant on Protocols to the former Governor of Ogun state and Special Assistant on Public Affairs and Protocols to the Governor of Oyo state at the Liaison office, Lagos.
Ms Adeyemi is the founder and creative director of Latifah Couture, a clothing line established through an effective combination of impeccable interpersonal skill, communication and innate sense of style with which she masterly delivers contemporary designs with attention to Islamic modest clothing.
Being purpose driven, she recently ventured into Health and Wellness space after a successful completion of a formal training and required certification by setting up a Wellness Clinic that uses the Wet Hijama Cupping Therapy, Acupuncture and Naturopathic medicine modalities.
Abiade Adedoyin a senior professional with 16 years of progressive career growth in Business Development, Finance and Program Management in the USA.
She is a member of the national Black MBA Association and National Association of Women MBAs where she held leadership positions.
She is passionate about health and wellness, spreading positivity, loves to travel to experience different cultures, spending time with her husband and children and helping those in need. In 2009, she volunteered and helped build homes for those impacted by hurricane Katrina in New Orleans and in October 2020, she launched a 40@40 initiative on behalf of her late father to give 40+ donations to those in need covering a broad range e.g. water for communities, medical bills aid, global crisis relief, orphanages, social injustice victims, food for families, imprisoned youth reforms and more.
Adeleye Musibau Adebisi is curious by nature and passionate about impacting society positively.
Adeleye graduated from the prestigious University of Ibadan and holds a Bachelor of Science (B.Sc.degree) in Mechanical Engineer. He has over 17 years work experience in the banking sector and he was on the board of the Central Bank of Nigeria's Payment System Vision 2020 and Automated Clearing House (ACH), Cheque and Instant Payment Scheme. He has interest in value creation, impacting those around him and honed his skills in creating and leading high performing operational structures which are optimized by Technology.
Growing up in a large close knit Muslim family influenced his focus on supporting and challenging people to be the best version of themselves thus, he supports and work with different Islamic and Alumni organizations in the quest to improve the lives of young and less privileged members of the society.
I cannot help everyone and I surely cannot do it all alone, however, I intend to help as much as Almighty Allah has blessed me, one person, one community, one household at a time!

Together, we can make a gradual noticeable difference!!!